(Last Updated On: 15/01/2021)
So you heard traveling to the United Kingdom, particularly major cities like Edinburgh, Scotland, is expensive, but you still want to backpack and experience the awe, wonder, and sheer thrill of visiting this wonderful country… Look no further than these EPIC hostels in Edinburgh that will give you a magical stay in this fairytale city without costing you a fortune.
Edinburgh is one of the most diverse and exciting cities that I have visited to date. You have the curiosity of the modern world mixed with the dark history and architecture of the cities past mixed with unmissable Scottish nightlife, international cuisines, and anything else you could possibly think of. Depending on what type of traveler you are, Edinburgh will have a hostel for you no matter if you're traveling on a tight budget, looking to partayyy, or if you're just wanting to meet some new, life-long friends.
There are plenty of great places to stay in Edinburgh, but since I enjoy hostels and traveling on a low budget myself, I am breaking down the ten best hostels in Edinburgh in terms of location, price, amenities, and other factors that may be important in your booking process. Honestly, you'll be booking or bookmarking your hostel of choice in NO TIME, and probably even before you finish reading this blog post! If you explore Edinburgh and happen to book a stay in any of these hostels, please let me know how you enjoyed it in the comments below!
This post contains affiliate links for the products I mentioned, but as always, all opinions are my own. I make a small commission, at no extra cost to you, when you make a purchase or booking through these links. This helps to support this space and keep me blogging, which I am so extremely thankful for.
Planning a trip to Edinburgh? Check out these other awesome posts after reading about these hostels in Edinburgh!
---
The Best Hostels In Edinburgh For…
---
A Map Of Hostels In Edinburgh
---
The Top 10 Best Hostels In Edinburgh
---
1 | Castle Rock Hostel ($)
The Best Overall Hostel In Edinburgh
Hostel Location
If you want to be RIGHT in the center of all the action in Edinburgh, then the Castle Rock Hostel that is smushed between Castlehill and Grassmarket Street is basically the Wonka's Golden Ticket of hostels in Edinburgh. When you walk out of the hostel, you have a direct view of Edinburgh's city center, Edinburgh Castle. From the castle, you can venture down the Royal Mile for some good eats and shopping, or you can walk down Grassmarket Street and pay a visit to Armstrong Vintage and see the unusual and quirky side of Edinburgh.  The hostel is equidistant away from Calton Hill, Arthur's Seat, AND Dean Village, so this is quite literally the perfect location to base yourself in for your Edinburgh Itinerary. You're a stone's throw away from basically everything!
Hostel Atmosphere
The Castle Rock Hostel has that very classic hostel vibe. There is never a dull moment in this place as it's always booked up FAR in advance and meeting new friends is practically a cakewalk here since there is always something going on! The decorations are colorful, quirky, and they definitely make you feel right at home. If you have an outgoing personality and love socializing, this is a great hostel for you, however, there are plenty of areas with quiet and chill areas!
Hostel Amenities
The amenities are almost just as good as the location! Castle Rock offers free city tours, free wifi, free linens, and breakfast for only a few pounds. There is luggage storage, a full-service kitchen, free wifi, and 24/7 reception and security so if you happen to waltz in at the dead of night, there is someone there to make sure you get settled in. These are only a handful of what this hostel offers, so check out the full list of the Castle Rock Hostel's amenities here!
---
2 | Kick-Ass Greyfriars ($)
*previously Budget Backpackers
Best Party Hostels In Edinburgh
Hostel Location
So if you luck out with the Castle Rock Hostel since it's all booked out, then Kickass Greyfriars is only a stone's throw away from that hostel and it's priced similarly, except if you're coming to a Kickass Hostel, you're ready to partay! This hostel has a fantastic location and is a short walk away from many Harry Potter sites like Greyfriars Kirkyard, Tom Riddle's Tomb, and The Elephant House! To start your trip off on the right foot, Brew Lab, one of Edinburgh's many great coffee spots, is right up the road as well as Breakfast, Brunch, and Lunch, one of the best places to get breakfast in the city! After grubbing out at these stops, Edinburgh is your oyster since you're close to Edinburgh Castle, Calton Hill, Arthur's Seat, Palace of Holyroodhouse, St. Giles Cathedral, The Royal Mile, and many other iconic spots!
Hostel Atmosphere
As I said before, if you're coming to Kickass Greyfriars, you're ready to get yo' drink on. If you're coming here as a solo traveler, you can sign up for one of their self-hosted pubs crawls to meet fellow travelers and explore the exciting nightlife of Edinburgh! Kickass is definitely a social hostel as they host a lot of their own events, but there are plenty of spaces to chill out, *coughs* like their SWEET treehouse common room! Its design is similar to that of a pub in Edinburgh. There is an old school VW bus bar in their common room with a pool table and plenty of tables and chairs to eat or enjoy their free wifi!
Hostel Amenities
Not only does the Kickass Hostel have great amenities like free wifi, 24/7 security and reception, a self-catering kitchen, but they also have a pool table, PlayStation, mini supermarket, board games, and free walking city tours! Basically, if you ever want to have a chill travel day, you don't even need to leave the hostel! They have everything and more!
---
3 | Kick-Ass Grassmarket ($)
Best Party Hostels In Edinburgh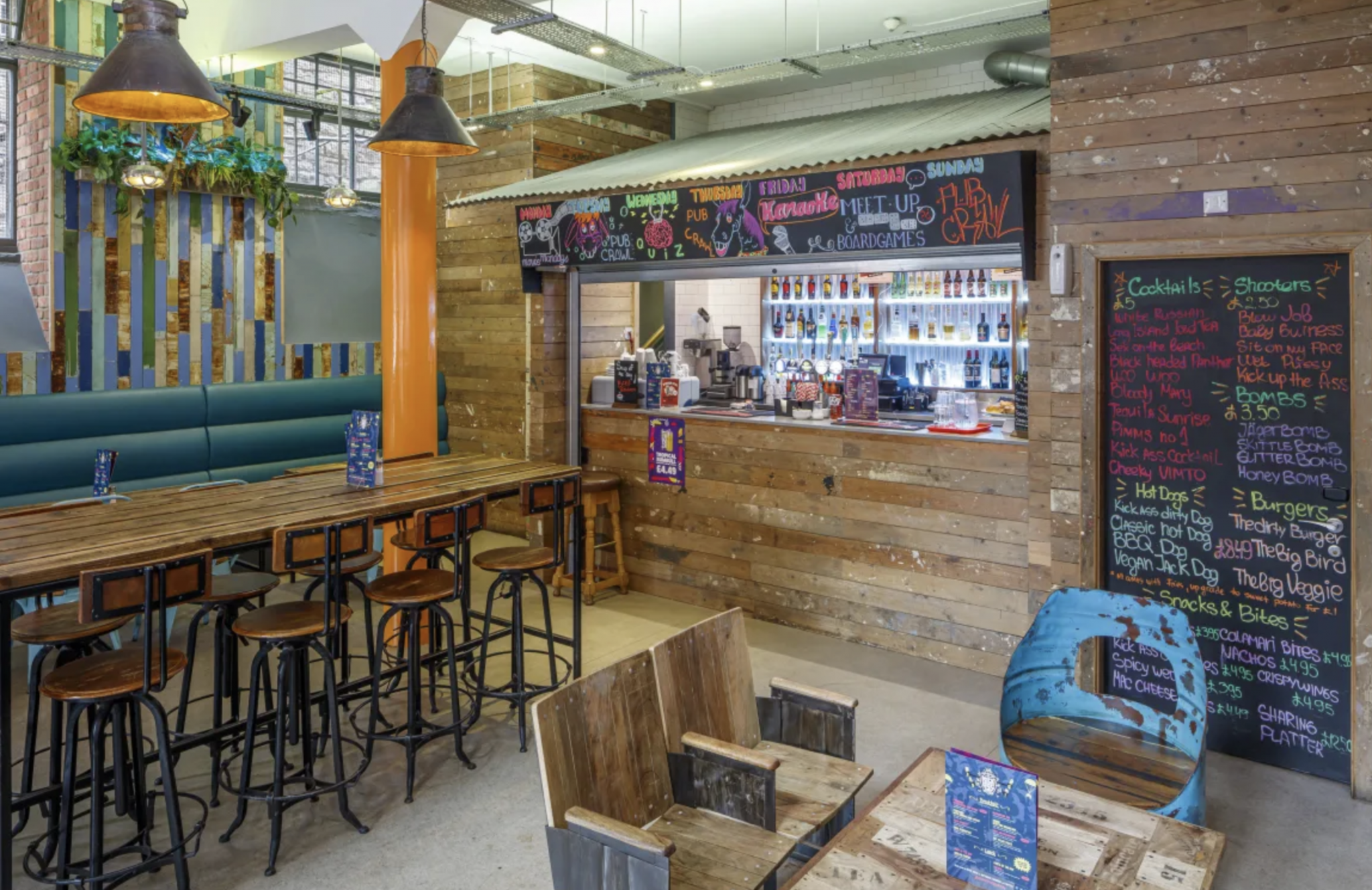 Hostel Location
Once again, this hostel is in an optimal location right on Grassmarket Street! Grassmarket is almost like a mini, but quirky Royal Mile that has all kinds of cool stops to explore like the Maison De Moggy and Armchair Books. Like the other hostels I just spoke about, this Kickass Hostel is close to all the highlights of Edinburgh: Arthur's Seat, Royal Mile, Arthur's Seat, Harry Potter Sites, etc.! If you happen to be on the hunt for some awesome photo spots, this hostel is right next to The Vennel Viewpoint, an awesome staircase that has an outstanding view of Edinburgh Castle! Get their early in the morning capture the magic!
Hostel Atmosphere
Like its sister hostel, the Grassmarket location for Kickass Hostels is very much social, colorful, and welcoming to all backpackers. There is a minibar with plenty of seating if you want to enjoy drinks with new friends, pregame before your pub tour, or relax before taking on the city. They host movie Mondays and karaoke nights so this is a perfect place if you're a solo traveler looking to make new friends. If you want to chill out, there is a quieter common room upstairs that is fully equipt with board games that are sure to strike your fancy!
Hostel Amenities
If you're traveling Scotland on a budget, this is one of the best hostels you can book because they offer meals starting at under five pounds and they have a full, industrial self-serve kitchen that you can easily whip up a homemade meal in to save a bit of money! In addition to the budget-friendly meals, they have free wifi, 24/7 reception and security, linens, free walking city tours, and washing machines if you need to freshen up your wardrobe!
---
4 | The Baxter Hostel ($$$)
Best Hostel In Edinburgh For Digital Nomads
Hostel Location
Unlike the other three hostels I just spoke about, The Baxter Hostel is located on the other side of Waverly Station, the main railway station running through Edinburgh. It's still centrally located, but you will have just a little bit of a further walk to Edinburgh Castle and the other sights across the station (3-5 minutes). Calton Hill, an epic place for sunrise is within close proximity and you are just a wee bit closer to Dean Village, a fairytale destination you don't want to miss!
Hostel Atmosphere
The Baxter is custom-built, making it one of the most aesthetically pleasing and luxurious hostels in Edinburgh. Ladies, you're going to LOVE this one. The decor and pale blue walls remind me of a UK version of a farm-style home, so it's a perfect place for relaxing and getting a bit of work done. It's very obvious that there was some thought put into the design, so if you want to stay in a beautiful hostel, then this is your dream spot.
Hostel Amenities
Unlike most places you stay in Edinburgh, The Baxter's nightly cost comes with breakfast! This might be something you want to look into if you're trying to save money while traveling Scotland! On top of the free grub, you get free wifi, 24/7 reception, and bookable tours at the desk. This hostel is very simple and doesn't include the other entertainment features of the previous hostels, so if you're looking for a more reserved hostel experience, then this is a perfect fit for you.
---
5 | High Street Hostel ($)
Best Hostels Edinburgh For Budget Travelers (+ History Lovers)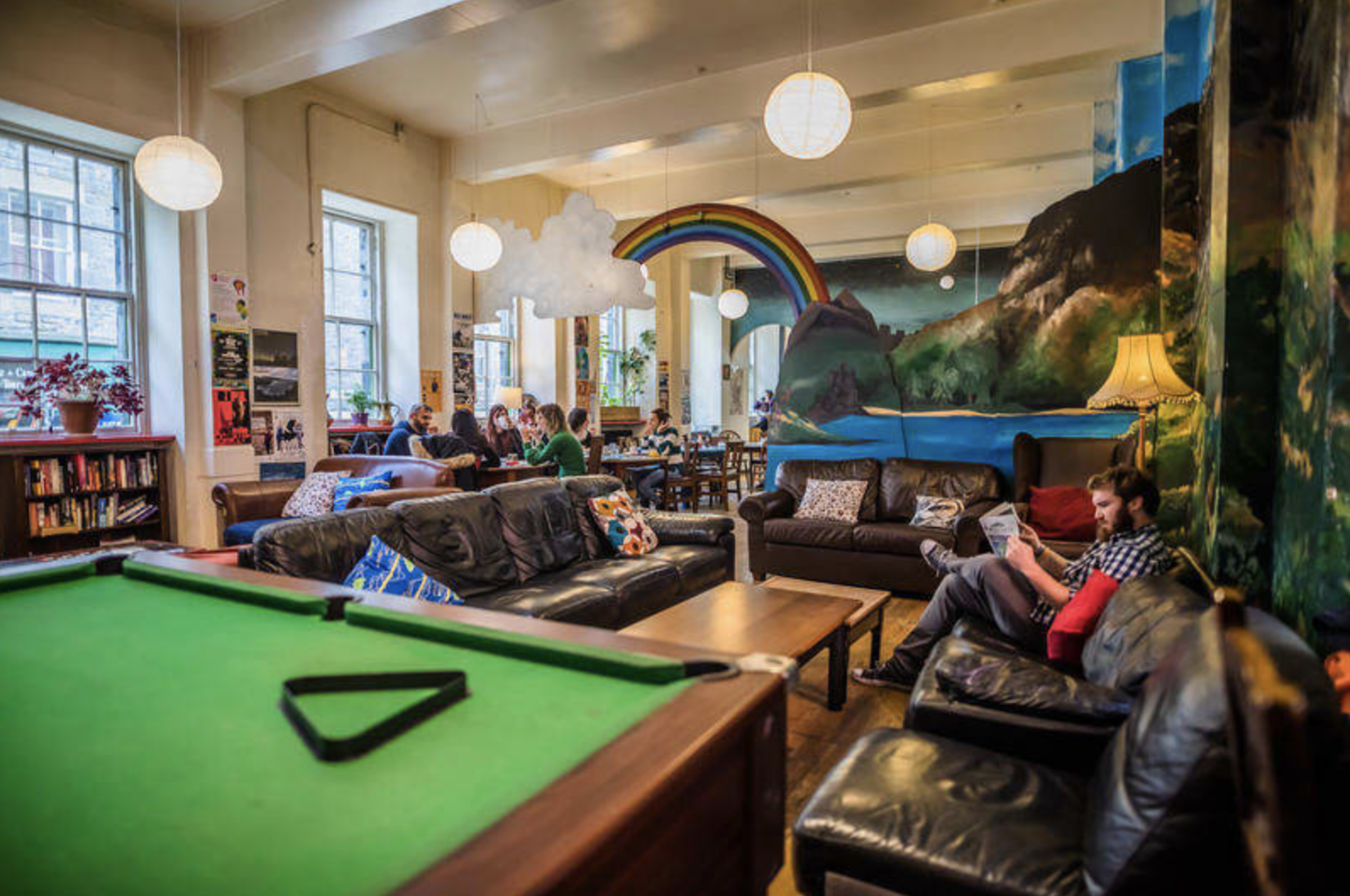 Hostel Location
The High Street Hostel is nestled almost halfway down the Royal Mile between Edinburgh Castle and The Palace of Holyrood, so it's a really great spot for thoroughly exploring the Royal Mile and the outer areas. You've probably noticed a trend that a lot of these hostels are on or close to the Royal Mile and that's because it's THE thing to see while you're in Edinburgh. It also happens to be centrally located in regards to the other hotspots of Edinburgh so it's the prime time location for accommodation. However, the best part about this hostel is that while it is on the Royal Mile, it's one of the best hostels in Edinburgh for budget travelers. You cannot beat $15/night for a room in this great of a location!
Hostel Atmosphere
If you're looking for a hostel that gives a dash of historical significance and Old Town feel, then this is one of the most interesting hostels on this list. It is located in Old Town, a UNESCO World Heritage Site, AND way back in Scotland's history, an earl that helped someone murder Mary Queen of Scots husband stayed in this very place! If you're a history lover that's eager to explore Scotland's dark, interesting, and significant past, then this is THE hostel of all hostels to stay at! The building itself is 470 years old!
Hostel Amenities
Although this building is approaching its fifth century, you can still kick back and relax with free wifi, a cheap buffet-style breakfast, and a fully loaded kitchen! Not to mention the relaxing common room with chill beats, board games, a pool table, and an outdoor terrace where you can enjoy your first-morning cup of tea or coffee while watching the sunrise over Edinburgh. Absolutely unbeatable!
---
6 | Code Pod Hostel – The Loft ($$)
Best Hostels In Edinburgh With A Private Room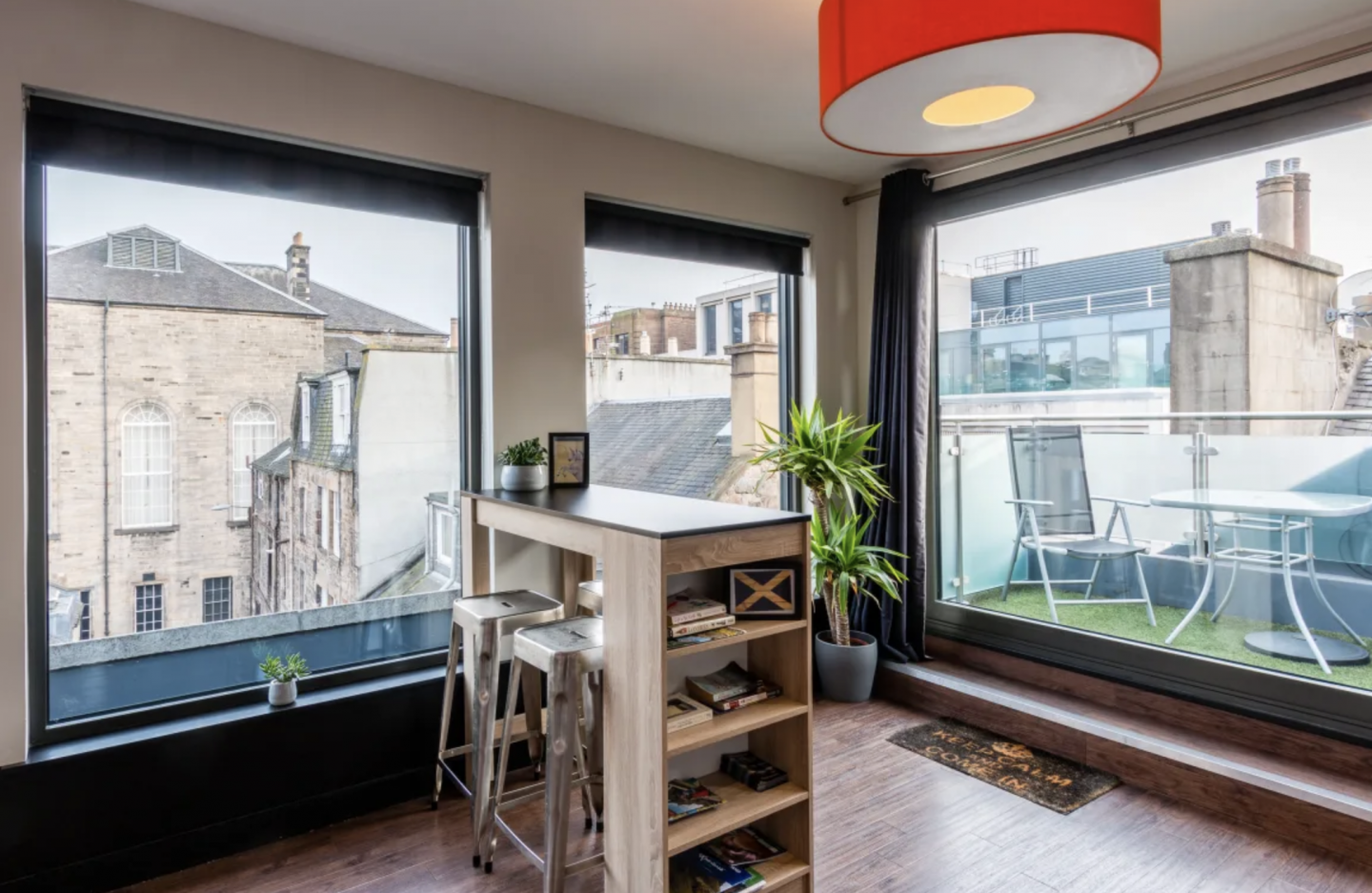 Hostel Location
As you can tell by the beautiful photos, the Code Pod Hostel is in a stunning location. It's a few minutes away from Waverly Station in case you plan on venturing out into Aberdeen, Glasgow, or the highlands, and it's also only a couple minutes walk away from the Royal Mile and its highlights. Something that surprised me about Edinburgh hostels is that that are many of them are in fantastic locations with plenty of other options in case one is booked or out of your price range. This hostel, like most of the others, is a perfect base camp for exploring the city.
Hostel Atmosphere
If you've ever dreamed of having your own loft in the heart of New York City, then you're going to fall in love with this hostel. With its brick accents and stunning views of Edinburgh, you can't help but feel like you're actually living in the city. The natural lighting and tones of this place make it optimal for those looking for a more chill hostel experience and a great place to relax after a hectic day in the city. AND lest we forget the PENTHOUSE you can rent and see the sunrise over Edinburgh… Talk about ATMOSPHERE.
Hostel Amenities
Most notably, the Code Pod Hostel has a £3, healthy breakfast available (only if you prebook or ask at check-in), so if you're looking to save a little bit of money they have a killer breakfast available, OR there is an adorable kitchen you can easily make some porridge or breakfast of your choice in and then enjoy it on their outdoor terrace. They offer free wifi throughout the hostel and you can even book tours of the city and surrounding areas at their front desk!
---
7 | Belford Hostel ($$)
Best Off The Beaten Path Hostel in Edinburgh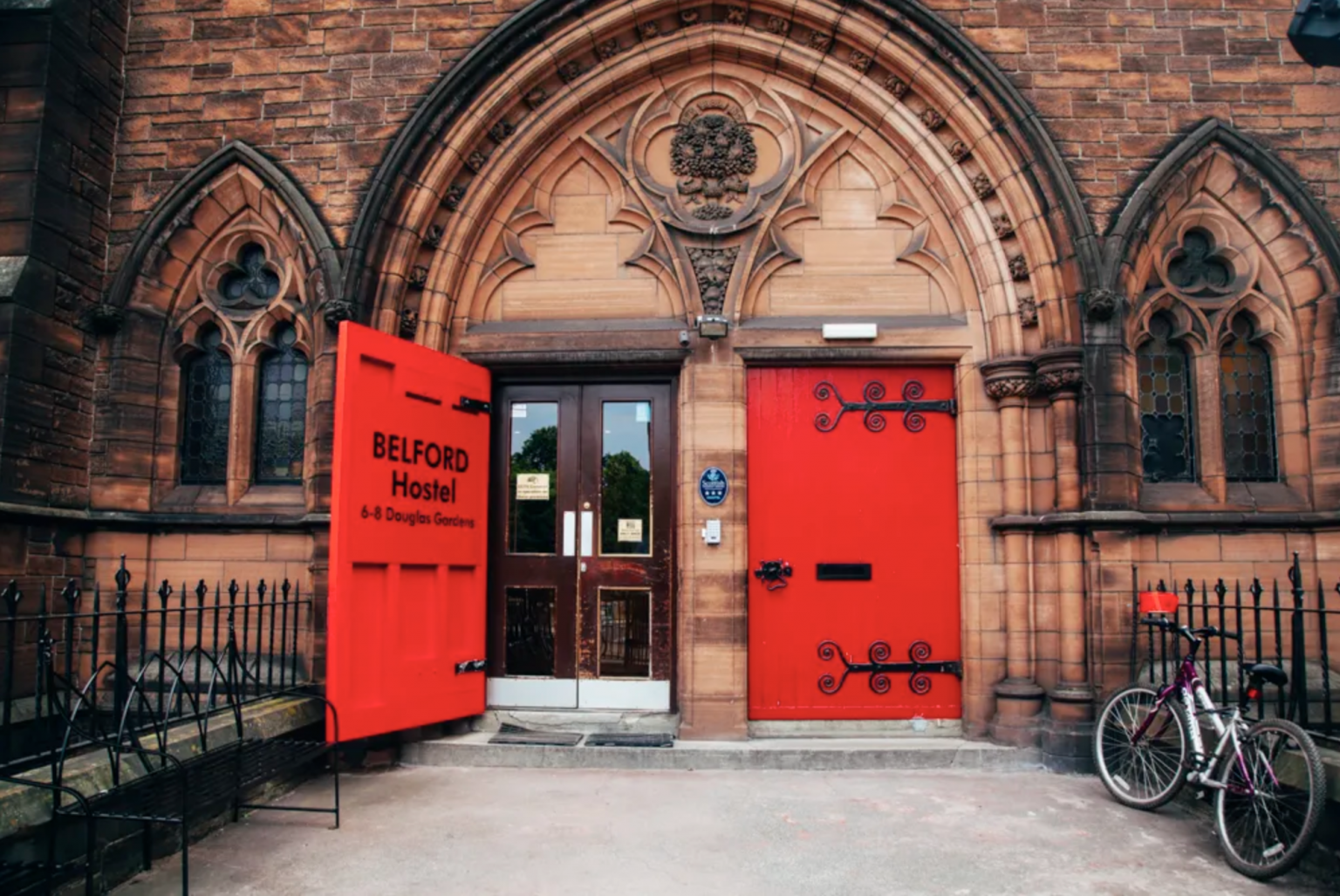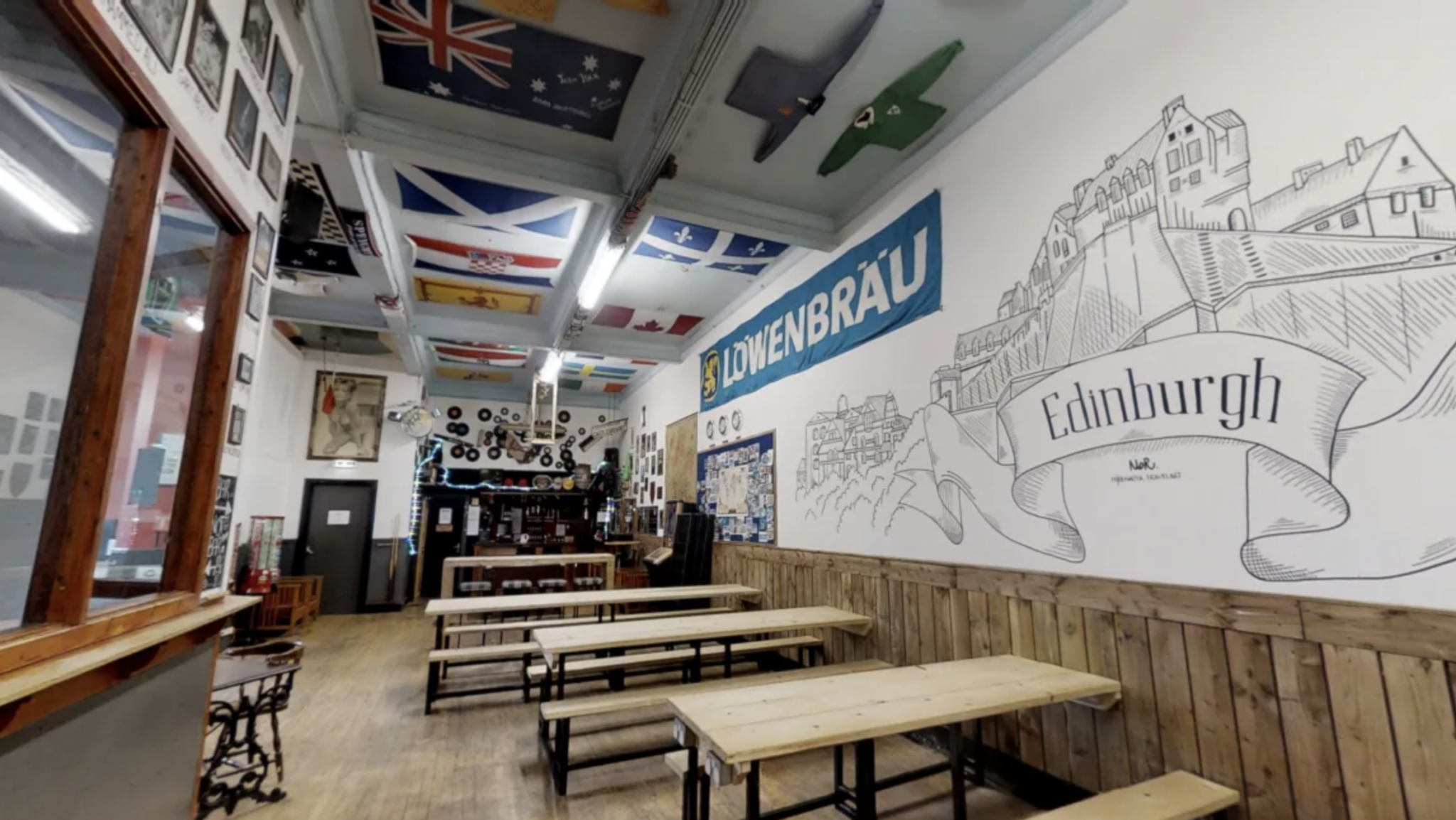 Hostel Location
If getting off the beaten path is the name of your game, then the Belford Hostel is the best place to stay to get away from those inner-city crowds and stay in the quieter, fairytale side of Edinburgh. This hostel is right down the road from Dean's Village, a town that is overlooked by most travelers but a 'cant-miss' site if you're spending a weekend in Edinburgh! This is a great hostel for you if you don't mind a bit of walking since Edinburgh Castle/The Royal Mile is roughly thirty-minutes away from the Belford Hostel. If you're traveling on a budget, consider walking or taking the bus into town since it's only a few pounds to ride.
Hostel Atmosphere
The interior of this hostel almost reminds me of those really exciting summer camps that you went to as a kid, but with alcohol! There are bright colors everywhere and even a full-on mural of Braveheart, surprisingly regardless of its historical inaccuracy lol, going around the staircase, and a bar! The Belford Hostel is exciting and great for travelers that like to both chill and socialize since there are plenty of spots to connect with others or find a quiet space to yourself.
Hostel Amenities
Amenities are plentiful with free wifi, vending machines, a book exchange, a gaming room, and a tour desk to book exciting adventures or walking tours of the city. Belford also has a full-service kitchen for cooking in case you're looking to save a bit of money on breakfast! It's a simple hostel with extraordinary exploring opportunities that you're guaranteed to love!
---
8 | Haystack Hostel ($)
Best Hostel In Edinburgh For Budget Travelers
Hostel Location
Jumping right back into our centrally located hostels, the Haystack Hostel is another hostel on the north side of Waverly Station. This adds a couple of minutes of transit time to the highlights, but only by a couple of minutes. A huge plus to staying at this hostel is that you're a straight shot away from the Village of Leith, which is a small port town that reminds of a mini Amsterdam a little bit! It's around a 35-minute walk, but it's one of those off the beaten spots that you don't want to pass over. Not to mention the epic high tea you can have there at Mimi's Bakehouse *drools*.
Hostel Atmosphere
Haystack Hostel has a quaint and home-y vibe that I instantly fell in love with. Staying here almost makes you feel like you have your own apartment in Edinburgh, which is super cool if you like basing yourself in places for longer periods of time. The kitchen/hangout area is probably the highlight of this space since it desperately makes you want to bake a fresh batch of blueberry muffins while sipping your morning tea (I wish this was an exaggeration, but just look at those photos).
Hostel Amenities
The reason why this hostel is the best for budget travelers in Edinburgh is because you can score a cheap room, free breakfast, AND a free towel all in one sweep. It's pretty rare to get a deal like this in addition to a great room price, so I would highly recommend booking a stay here! Additional amenities include airport transfers, fridge/freezer space, a full-service kitchen, and a washing machine to freshen up your clothes!
---
9 | St. Christopher's Hostel ($$)
Best Hostel In Edinburgh For Solo Travelers
Hostel Location
If you're planning on traveling to Scotland via rail, then St. Christopher's Hostel is the best choice for you. Waverly Station is directly in front of the hostel, so you only have a few minutes walk to get here from your adventures in Glasgow, Aberdeen, or other parts of the United Kingdom. This hostel is on the south side of the station, so you're closer to all the main sights and right up the road from The Real Mary King's Close, St. Giles Cathedral, Greyfriars Kirkyard, and the Royal Mile!
Hostel Atmosphere
With a relaxed bar, alive atmosphere, and epic location, this hostel is perfect for solo travelers that want to connect with other travelers and feel the beat of the city. The common room has plenty of seating overlooking Waverly Station and the epic cobblestone streets of Old Town, so whether you're needing to get work done, organize the day's adventure, or meet up with a new friend, this is the best place for it!
Hostel Amenities
Out of all the best hostels in Edinburgh, St. Christopher's Hostel is the only hostel on this list that has any amenity that you can think of: free wifi, washing machines, a bar, a restaurant, ATM, board games, movies, a full-service kitchen, and anything else you could ever want. This is a great spot if you're a first-time hosteler since everything you need is all in one place! Plentiful amenities are always a highlight in a hostel that I really appreciate!
---
10 | Light House Hostel ($)
Best Hostels In Edinburgh For Budget Travelers
Hostel Location
The Lighthouse Hostel is just a tad bit out of the main city center, but it's still a great spot to base yourself if you love art, music, and creation. This hostel is around four movie theaters, three theaters, a concert hall, and a ton of great pubs and coffee shops! Edinburgh Castle is only a fifteen-minute walk away and a stone's throw away from the oldest theater in Edinburgh, the Cameo, and The Meadows, a beautiful park on the south side of the city. Fountainbridge is one of my favorites areas of Edinburgh as it's very charming, quaint, and artistic!
Hostel Atmosphere
If you want a comfortable, home-like space to come back to each night, The Lighthouse Hostel will welcome you with open arms. It's set up more like a house than a hostel, and with its cozy atmosphere, you can't help but feel like you're staying with your extended Scottish family. The warmth of the interior overflows onto their outdoor terrace where they host BBQs and campfires regularly!
Hostel Amenities
Not only do they offer free wifi, free lockers, free towels, and free breakfast, but they offer free tea and coffee all day long! Not only that, a substantial amount of the money you put in to stay in this space is donated to help provide homes for people in need. If you like to give back while exploring, or if you want to travel more sustainably, then this is the right place to do it. The Lighthouse Hostel has every single amenity you could want while also being the best cheap hostel in Edinburgh!
---
What's the WILDEST hostel experience you've ever had? Share with me in the comments below!
Aaren
Did you enjoy these guide to the best hostels in Edinburgh, Scotland?